Overview
While Net Income is not a traditional general ledger account, Net Income must still be listed as an account in the Equity section of your SCoA if you are running SCoA-based reports. Additionally, this line only auto-maps via Whitelist terms. Going to Tools > Map to SCoA will not ensure this line on your reports remains mapped.
Ensure Net Income Reflects Correctly in SCoA-Based Reports
Step 1. Click Manage > SCoA.
Step 2. Move to the Equity section.
Step 3. If Net Income is not created in the SCoA, click Create Account and add it as an account, choosing Net Income as the Category.
Step 4. In the Whitelist field, enter the phrase Net Income (including the quotes) in order to facilitate the auto-mapping of the Net Income amounts from your file(s) into the Net Income account in the SCoA.
Step 5. Click the Save button to save the changes to the SCoA account.
Step 6. Sync the accounting file(s) again (the mapping should take place automatically).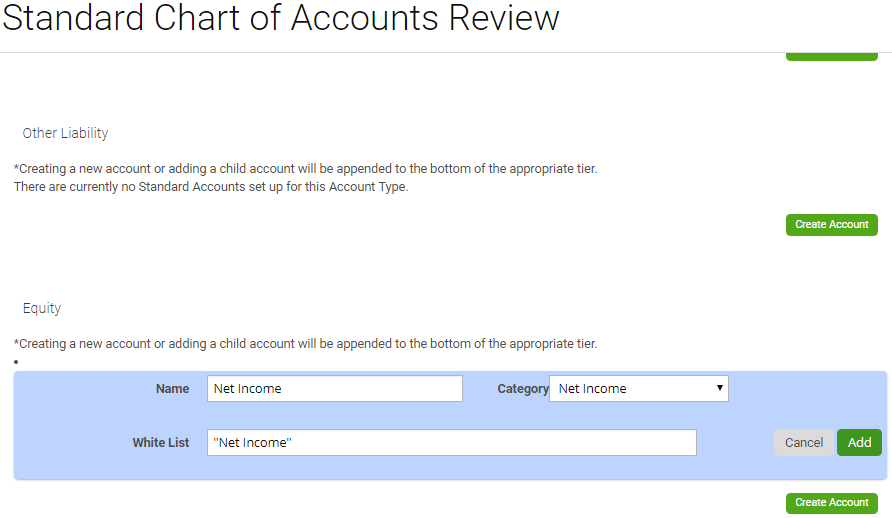 ---
Have Questions?
We're More Than Happy to Help
Schedule a call with Customer Success below, email us at support@qvinci.com or call us at 1-512-637-7337 Ext. 1 Available M-F, 7:30am-6:30pm CT and it is always FREE!
Schedule an Appointment with Customer Success