Overview
A wide array of users may be set up in Qvinci so that the account may be effectively managed. Only one Administrator may exist, but multiple levels of managerial users and report viewing-only users may be configured. Admins, Leaders, and Managers may add additional users.
Create an Entity Syncer
One Entity Syncer may be assigned to an Entity. This user has the ability to sync the financial data to Qvinci for the Entity but also has report viewing access and SCoA mapping access by default as well. Typically, this user is set up when the Entity is created, but if a user is needing to be swapped out with another, the below steps should be followed:
Step 1. The Admin, Leader, or Manager should navigate to the correct Client/Company via the top left tab in the account.
Step 2. From the correct Client/Company visit the Manage > Entities tab.
Step 3. Click on the desired Entity name and then select the "Edit Basic Details" button from the File tab.
Step 4. Click the "Change" button to change the existing Entity Syncer to another user.
Step 5. The Find Users dialog will appear. You can search for an existing username using the email address used to create the account or the first and last name of the user.
Step 6. If the user already exists/appears, check the dial next to their name and select

.
Step 7. Otherwise, a new user needs to be set up by clicking the Invite User

button.
Step 8. Enter the first name, last name, and email of the new user and click "Invite".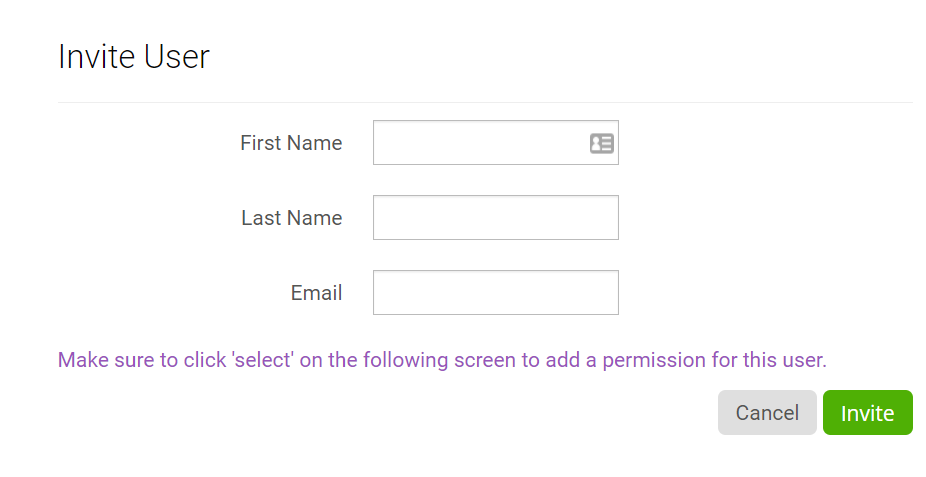 Step 9. Click the Select

button and then press "Save" to complete saving the user at the role level.
When the user appears on the File tab, next to the Change button, then they have been set up.
Qvinci automatically emails invites to new users and prompts them to set a password. Otherwise, existing users receive a notification of the new user role they are assigned to.
---
Have Questions?
We're More Than Happy to Help
Schedule a Call with Customer Success below, email us at support@qvinci.com or call us at 1-512-637-7337 Ext. 1 Available M-F, 7:30am-6:30pm CT and it is always FREE!