Overview
The ability for administrative users to upload a SCoA into Qvinci themselves is only available only by request. Due to the technical nature of this step, your CSM (Customer Success Manager) will complete this action for you. They will receive and evaluate your Standard Chart of Accounts, and then upload the file for you. If you would like to do this on your own, please schedule an appointment with Qvinci Support to have this feature enabled for the account.
Import a Custom Standard Chart of Accounts (SCoA)
Once enabled, Admins, Leaders, and Managers can import a custom SCoA from an Excel template by following the steps below.
Step 1. From the navigation menu select Manage > Client/Company > Export SCoA Template.
Note: If you don't see this menu option, you do not have this feature enabled.
Step 2. While you can save the template anywhere on your PC, you MUST ensure the file name reflects the existing Client/Company name in the Qvinci account. Otherwise, you will receive an error when importing. Example format: SCOA_Import_SampleCompanyName.xlsx
This helps eliminate any cross-company uploads that might occur for multi-client/company accounts.
If you are uploading a SCoA from a generic template, simply change the name of the template to reflect the necessary format. Example format: SCOA_Import_SampleCompanyName.xlsx
Step 3. In the template, each account type will have a separate tab along the bottom. These tabs are labeled for each account type you'd like to use in your SCoA. Qvinci uses the same account types as QuickBooks, with exception of the additional account type called "Current Liability" which is utilized only in the Xero accounting platform.
Step 4. You would enter each account name in the appropriate tab indicating the account type in Column A.
Step 5. When entering accounts with sub-accounts, Qvinci requires that accounts be formatted with colon delimiters to differentiate the parent account from sub-accounts (child accounts). The parent account would be repeated and separated with a colon with every sub-account (child), as seen below.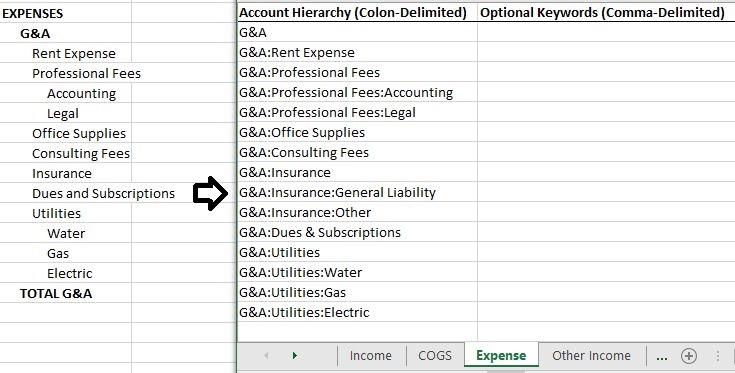 Note: Be sure to list all child accounts/sub-accounts directly under the parent account. When listing a child account in a different order, these accounts would be identified by Qvinci as a new parent account, and you would receive an error when trying to import the Standard Chart of Accounts.
Step 6. You can optionally add unique whitelist terms in the second column, with each term separated by commas. These whitelist terms when the separate files are synced with Qvinci. Any native account names that contain one of these whitelist terms, that account will automatically be mapped without any user intervention.
Uploading the Standard Chart of Accounts (SCoA)
Once you have completed adding all of the accounts and have saved your template you can now upload the file to Qvinci.
Step 1. Navigate to Manage > Client/Company >
Step 2: Choose File > Upload
After your custom SCoA has been imported, you may edit it using the Manage SCoA workflow.
Common Errors & Solutions
Error: [Parent Account Name] is given as a parent on line [X] but is never an account of [Account Type].
Solution: An account name contains a typo, or a child account is either missing a parent account or is listed under the wrong parent account. Ensure the child account is listed directly under the appropriate parent account and that there are no typos in the account names.
Error: File does not match.
Solution: The SCoA template file name has been changed. Generate a new SCoA template and be sure to keep the original file name.
---
Have Questions?
We're More Than Happy to Help
Schedule a call with Customer Success below, email us at support@qvinci.com or call us at 1-512-637-7337 Ext. 1 Available M-F, 7:30am-6:30pm CT and it is always FREE!