Overview
The creator of a Report, Document, or Package is able to add hyperlinked text to the description field in Libraries to direct users to websites or articles about the asset. Clicking on the hyperlinked text will open the desired URL in a new tab.
To Add Hyperlinked Text to Report, Document, or Package Description
Step 1. You must be the creator of the Report, Document, or Package and it must exist in your Mine tab.
Step 2. Navigate to Reports & Libraries > Libraries > Mine tab.
Step 3. Click on the Rename button.
Step 4. In the Description field, use the following syntax [href|YourText|the URL].
an open square bracket [
href (means a hypertext reference)
a pipe symbol |
The description visible text
a pipe symbol |
the uniform resource locator (a web address)
the closed bracket ]
Example:
[href|Check out my web page example|web.qvinci.com]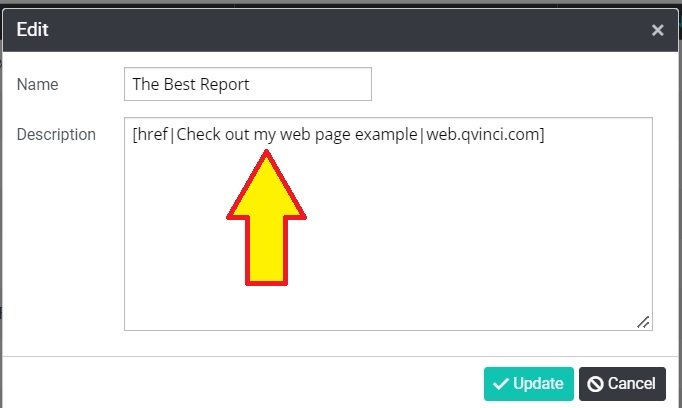 This is what you will see on the Libraries Mine Tab.

Warning: The description field has a character limit of 200 characters, including spaces.
---
Have Questions?
We're More Than Happy to Help
Schedule a call with Customer Success below, email us at support@qvinci.com or call us at 1-512-637-7337 Ext. 1 Available M-F, 7:30am-6:30pm CT and it is always FREE!