Overview
Qvinci reports now has a feature that allows users to view the saved report history for their report templates. This can be helpful if mistakes are made, the report is broken, or if the user saves the report at the wrong time.
How To Open a Previously Saved Version of the Report
Step 1. Using the left-hand navigation menu, go to Reports & Libraries and choose Libraries.
Step 2. From one of your reports in the Pinned or Mine tab choose the blue Edit

button on the right for the report you wish to edit or to open a previously saved version.
Step 3. Click on the Report History

button, located in the left-hand side toolbar.
Step 4. You will see an acknowledgment that you understand the history function.
Step 5. Once Yes is selected, the Report History choices will open on the right-hand side and the user can choose any of the saved versions by clicking on one of the timestamps.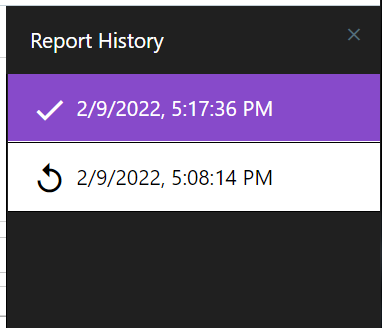 Step 6. The opened report will revert to a previous save date, from when you edited the report.
Opening a Previously Saved Report Will Change
All Data inside of the report, including graphics

Page setup
Opening a Previously Saved Report Will NOT Change
Report Options

Sharing Options

Packages the report is attached to

Report Name

Report Description
Note
Report History will not show up for pre-existing reports until they are saved
You can choose as many of the report versions as you would like and can save the report version you want while that report is opened.
You are also able to change to the most recent report by selecting the timestamp in the report, which is useful for copying a working formula into a report you saved after making a change.
---
Have Questions?
We're More Than Happy to Help
Schedule a call with Customer Success below, email us at support@qvinci.com or call us at 1-512-637-7337 Ext. 1 Available M-F, 7:30am-6:30pm CT and it is always FREE!