Overview
Reports and Packages can be easily downloaded as an Excel file or in PDF format. This can be completed with your reports in our Reports & Libraries > Libraries. Each time you run a report, note that a refresh of your Qvinci data takes place automatically. If you click on the Preview

button from the libraries page, the report template that is being populated automatically refreshes with the most up-to-date data.
Export a Single Report to Excel or PDF
Step 1. From the top of the left navigation bar toggle to the correct Client / Company
Step 2. Migrate to Reports & Libraries > Libraries
Step 3. Find the report template you'd like to export to Excel or PDF
Step 4. Click the Preview

button to the right
Step 5. Press one of the Export buttons from the Preview pane. The export buttons are the green buttons in the bottom-left of the screen.

Export to PDF

Export to Excel

Note: Both export options will use whatever settings are set under the Page Setup

tab.
Read more about setting Page Setup options.



Note: If you open a report using the Edit option, you can also choose to Export the report template in the same way, but you'll be exporting our formulas and macros and not a complete report.
These options are on the bottom of that screen in orange rather than green.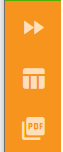 Customize the Excel Export
Excel exports can be further customized like a normal spreadsheet or workbook. Qvinci will export all formulas that exist in the report that aren't related directly to the standard data, such as a variance, as seen below.
---
Have Questions?
We're More Than Happy to Help
Schedule a call with Customer Success below, email us at support@qvinci.com or call us at 1-512-637-7337 Ext. 1 Available M-F, 7:30am-6:30pm CT and it is always FREE!