Overview
At times, a Qvinci Entity Syncer can encounter the QuickBooks error code 80040418. This is an Intuit error message. The message correlates to the user not being logged into the QuickBooks file as a QuickBooks Admin when linking a file to a third-party application, such as Qvinci.
You must have Administrator privileges to perform the functions described below.
Resolving Error 8004018
Intuit requires that a user be logged in as the QuickBooks Admin when connecting a file to any third-party application. This is an Intuit security precaution.
Step 1. The user should first exit the error.
Step 2. Log out of the QuickBooks file.
Step 3. Open QuickBooks with the correct company file, logged in as the QuickBooks Administrator, and in single-user mode.
Step 4. From the Qvinci Sync Client, choose Link.
Step 5. Sign in using your Qvinci account.
Step 6. Users may now proceed with connecting (syncing) the file to Qvinci by allowing permissions.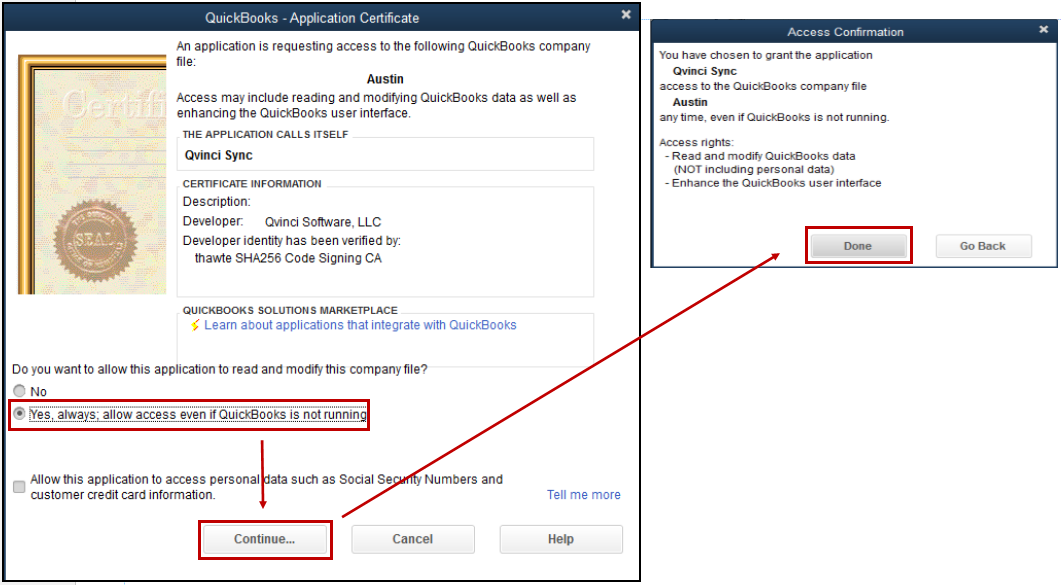 Step 7. Then proceed with the Qvinci Sync Client Installation and linking and syncing the desktop file.
---
Have Questions?
We're More Than Happy to Help
Schedule a call with Customer Success below, email us at support@qvinci.com or call us at 1-512-637-7337 Ext. 1 Available M-F, 7:30am-6:30pm CT and it is always FREE!