Overview
When expanded reporting is desired, as opposed to a collapsed or rolled up view, it may be necessary to apply bulk styling to headers and total rows. Instead of custom styling each header or total row through an entire report, a more preferred method is to style all headers and totals through the use of a macro.
Style or Insert Header and Subtotal Rows
It's not preferable to custom style every subtotal row throughout a report. Most likely, all headers and subtotals carry the same style. By use of defined macros, a user can apply bulk styling preferences quickly and easily.
Step 1. Open Reports & Libraries > Libraries.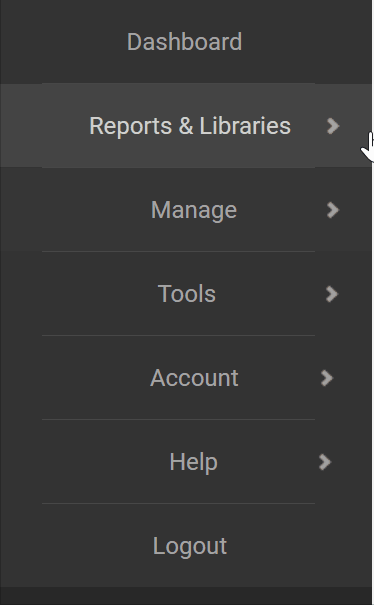 Step 2. We're going to use a P&L report as an example, so locate a P&L from your Mine tab or from the Qvinci Gallery.
Step 3. Click on the blue Edit

icon from the right side of the table to open our report styler where you can make changes to the template.
Step 4. With a P&L template open, migrate to the Income section.

Step 5. The layout should appear like the screenshot above showing (Income, %%headers%%, %%accounts%%, %%totals%%, and Total Income)

Refer to this article to learn more about using Account Chooser.
Return to each row and style as desired (i.e, the %%totals%% row may be bolded, but you may want a larger font than the accounts or header row, or to change the color so when printed in black & white the shading is appropriate).
Step 6. The custom styling that is applied to headers, accounts, and totals will carry through the entire section. Therefore, if multiple parent accounts exist inside Income, the user will find that all parent accounts in Income carry the same styling edits based on the formatting applied to the %%headers%% macro.
Step 7. Repeat the above steps in each Account Type section of the report (COGS, Expenses, etc.).
The below template shows that the user desires to have all header accounts in the Expense section highlighted blue and all subtotal accounts highlighted green.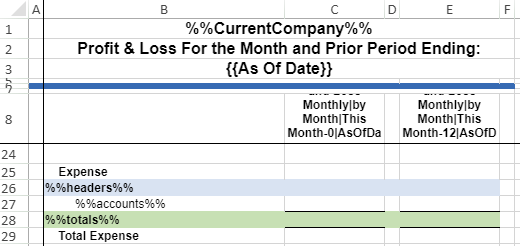 Here is how the same template renders the chart of accounts when it is previewed based upon the styling/highlighting edits that were made.

---
Have Questions?
We're More Than Happy to Help
Schedule a call with Customer Success below, email us at support@qvinci.com or call us at 1-512-637-7337 Ext. 1 Available M-F, 7:30am-6:30pm CT and it is always FREE!
Schedule an Appointment with Customer Success