Overview
To import your accounting files, Qvinci needs to establish a connection between your accounting file and the Qvinci platform. We then synchronize (sync), the accounting file with the platform for further analysis through our sync app.
To sync your data with QuickBooks or MYOB AccountRight, Qvinci uses the Qvinci Sync Client application which must first be downloaded from Qvinci's website.
If you are using QuickBooks Online, XERO, or Excel import, no such sync client is needed.
---
Intuit has announced that no version of QuickBooks is certified as being fully compatible with Windows 11 at this time.
Please do not upgrade to Windows 11 until Intuit has certified that QuickBooks is compatible with Windows 11. Please see published information on Intuit's website for additional guidance.
---
What Accounting Systems Can Be Used with Qvinci?
QuickBooks Online & QuickBooks Desktop
Pro, Premier, Enterprise & Accountant (USA and Canada, 2010+)
Note: QuickBooks files can be synced by Class delineation
Xero
Starter, Standard, & Premium
MYOB AccountRight
(Australian)
Premier & Enterprise (v19+)
Excel Upload
Excel for Windows 2007+, & Excel for Mac 2011+
What Type of File Will You Be Connecting?
(Click to jump to that section)
On What Operating Systems Can I Install the Qvinci Sync Client Application?
The Qvinci Sync Application can only be installed on Windows operating systems. If your sync application is installed in a hosted server environment, but you are running a Mac operating system, you will be unable to use the sync application unless you have a virtual Windows desktop. This is because the sync app loads from the Windows system tray.
Mac operating system users may also sync with Qvinci via the Excel Sync Method if they run Excel for Mac 2011 or newer. Macros must be enabled in Excel in order for the sync to operate. Excel for Mac 2008 does not allow for macros to be enabled. However, 2011+ does.
Windows 7, Windows 8, Windows 10

Windows Server 2012, 2012 r2, 2016
Additional System Requirements for the Qvinci Sync Application
At least 2.0GHz Pentium 4 processor; 2.4GHz recommended.

At least 512MB RAM for a single user; 1GB recommended.

1.5 GB of disk space

Display optimized for 1024 x 768 screen resolution or higher.

Microsoft .Net 4.6 must be installed

Internet connection
Qvinci Sync App Behavior
Typical idle behavior of the Qvinci Sync App: 0.0% - 0.1% CPU

Typical active behavior of the Qvinci Sync App: < 5% CPU

Typical sync time for QuickBooks Desktop file: < 2 minutes.
Checking Which Version of the Sync Client Is Installed
If you're experiencing issues with your Qvinci Sync Client, the first step in troubleshooting is checking if you have the most recent version of the application. Constant use of the app should ensure the auto-updates occur. However, in the case it doesn't, here is how you can check which version is installed.
1) Double-click the desktop icon.
2) In the system tray at the bottom, right-hand corner of your desktop, click the arrow to view additional applications in your taskbar.

​
3) Right-click the Qvinci icon.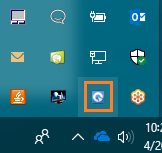 ​
4) Click Open Sync Client.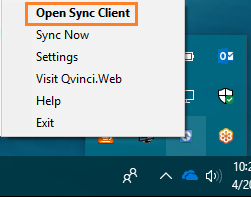 ​
5) The top bar on the Qvinci Sync Client shows the version of the software currently installed.
​

If the Qvinci sync client is installed on a PC where you have admin rights to install programs, it should update automatically. If it doesn't, you can always install the most recent version. If you are on a hosted environment, you may need to contact an IT admin or third-party host to upgrade to the most recent version.
---
Have Questions?
We're More Than Happy to Help
Schedule a call with Customer Success below, email us at support@qvinci.com or call us at 1-512-637-7337 Ext. 1 Available M-F, 7:30am-6:30pm CT and it is always FREE!