Overview
Sometimes when syncing with Qvinci, QuickBooks may prompt the QuickBooks user to reauthorize Qvinci's access to the QuickBooks file.
This reauthorization is not a new link process which would affect existing SCoA mappings. It simply establishes continued authorization for syncing.
If the user is not a QuickBooks Administrator then please instruct them to not reauthorize access. Instead have the user reach out to the file's QuickBooks Administrator to open the file, sync it, and reauthorize Qvinci access to the QuickBooks file.
Once signed into QuickBooks, make sure the file is in Single-user Mode. In order to do this, click on File and look for the option to Switch to Single-user Mode, as pictured below.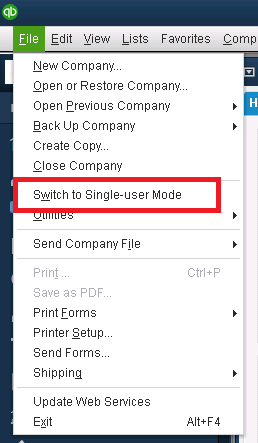 Note: If the pictured option says "Switch to Multi-user Mode," then this means you are already in Single-user Mode; if this is the case, skip to the next step.
Reauthorize the Qvinci Sync Client Certificate
Step 1. From the system tray (lower-right corner, near your clock) launch the Qvinci Sync Client.
Step 2. If the version is requiring an update, then the Qvinci Sync Client should undergo an auto-update momentarily.
Step 3. After updating, the user may open the QuickBooks file (be sure to open the file as the QuickBooks Administrator), open the Qvinci Sync Client, and from the Sync Client tab called In-File Sync they will click the Sync

button.
Step 4. If the progress bar does not begin for syncing, check if QuickBooks is giving you an Application Certificate to authorize. If there is a certificate to reauthorize, QuickBooks will flash orange in the task bar.
Step 5. The Application Certificate will require the below authorizations. Note that if multiple user logins exist for QuickBooks, the user will also need to select Admin as the user who is authorizing.

Step 6. After Done is selected on the second prompt, the file will sync to Qvinci.
Step 7. This process should be repeated for any other QuickBooks files that need to be reauthorized.
---
Have Questions?
We're More Than Happy to Help
Schedule a Call with Customer Success below, email us at support@qvinci.com or call us at 1-512-637-7337 Ext. 1 Available M-F, 7:30am-6:30pm CT and it is always FREE!