Overview
Advanced permissions are used in Qvinci to provide Viewer permission to a subset of the Company Entities. Properties are used to create these advanced permission groups. Assigning a User to a permission group will automatically grant access to view Locations/Entities that match only the selected filters. Once the Admin, Leader, or Manager has created a property, they may set up advanced permission groups to give a viewer visibility to all Locations/Entities that fall into that property. The visibility would update dynamically as Locations/Entities are assigned or unassigned from Properties.
Create Advanced Permission Groups for Properties
Step 1. From the menu on the left, click on Manage > Client/Company Permissions.
Step 2. Select the Advanced Permissions Group tab at the top of that Permissions page.

Step 3. On the Advanced Permissions Group page, all filter groups for the Client Company appear in the column on the left.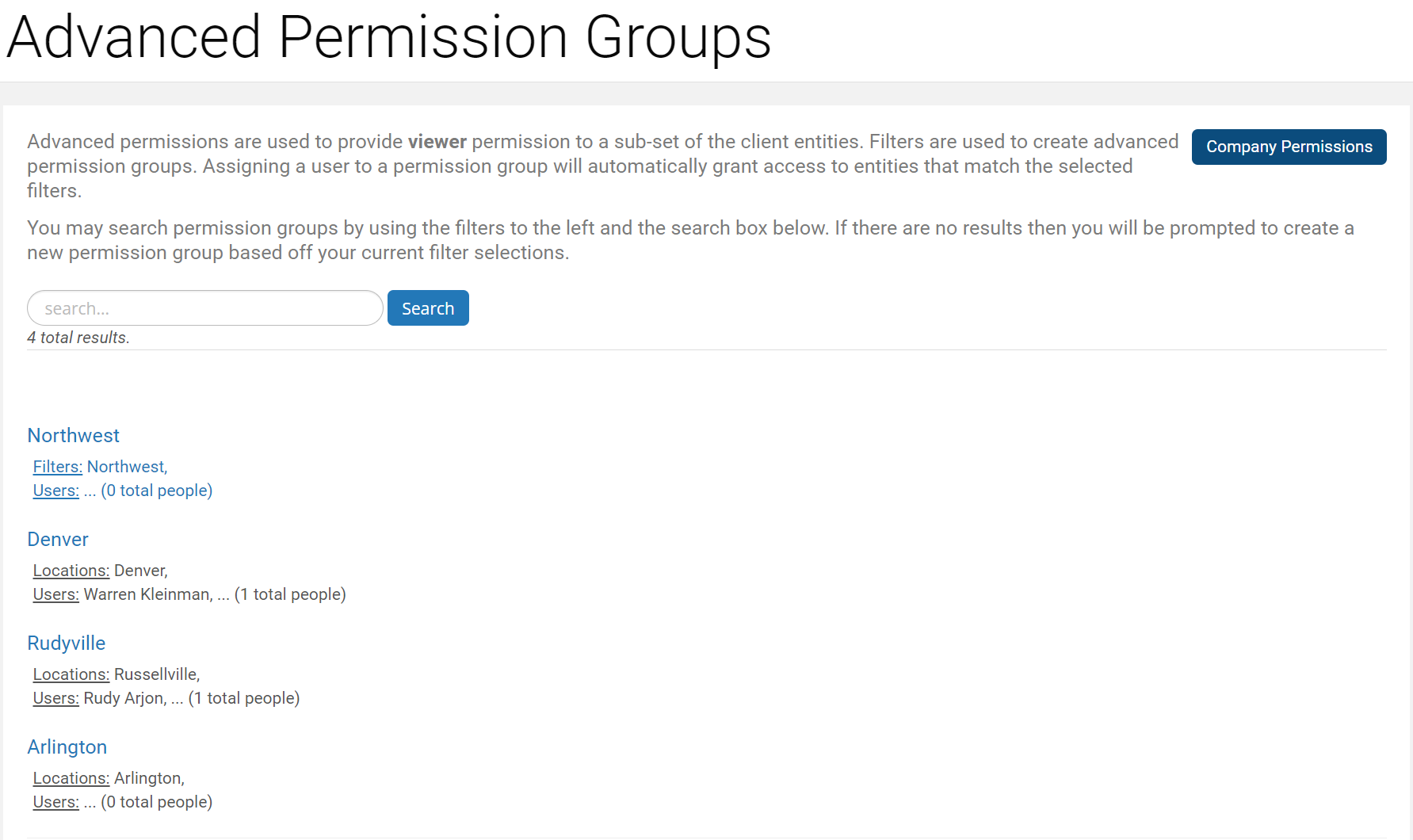 Step 4. Begin by selecting one or more properties in the right-hand column to customize viewing permission for that property or group of properties (i.e., Region)

Step 5. Click the Create

button to create a new permission group.
Step 6. Enter a Name for the new permission group.

Step 7. After creating the permission group, add Users to the group by clicking the Add Users

button.
Step 8. Check the boxes next to the names of existing Users from the list that appears, and then click the Select

button. Or invite a new user (see step 9).
Step 9. To invite a new user, click the + Invite User

button. Enter a first name, last name, and email to automatically send an invitation to the user.
Step 10. Once the user is invited and appears under the newly created group, everything is set. Your user will now see all locations that fall into the group you set up. If a group was created which contains more than one filter (such as Southwest Region and Less than 1 year old), then your user will be able to see locations that meet both these criteria.
Step 11. You may now add another user to the group or create a new group.
---
Have Questions?
We're More Than Happy to Help
Schedule a call with Customer Success below, email us at support@qvinci.com or call us at 1-512-637-7337 Ext. 1 Available M-F, 7:30am-6:30pm CT and it is always FREE!