Overview
Take a look at new features and updates the Qvinci Team released in September!
Trial Balance Reports
Many of our customers have requested a customizable Trial Balance report that could be included in their reporting packages. This is now available in Qvinci! We have two Trial Balance report templates under the Qvinci Gallery, as well as the already existing Trial Balance Basic Report.

Read our knowledge base article to learn more about Trial Balance reports and start using them today!
New Column Header for Vertical Analysis Columns
Previously when running a report that included vertical analysis, the column header would include [VA] to identify that it's a variance column. After feedback from our customers, we've updated the variance column header to show "%" instead.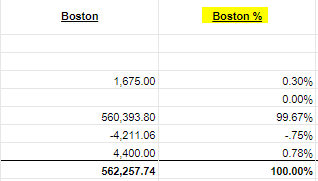 Updates to Auto-Mapping Using Whitelist Terms
We've made auto-mapping to your Standard Chart of Accounts (SCoA) in Qvinci even more powerful! Now you can use phrases to map account names that don't contain unique keywords. Learn more about how white list terms work and spend less time mapping in this article.
---
Have Questions?
We're More Than Happy to Help
Schedule a call with Customer Success below, email us at support@qvinci.com or call us at 1-512-637-7337 Ext. 1 Available M-F, 7:30am-6:30pm CT and it is always FREE!